Thursday, February 21st, 2008
It's been fun coming up with these Photoshop tutorials. There have been some great suggestions and great questions which have made me experiment with stuff, so I'm learning a lot.
One thing about creating webcomics is that, whatever your method of working, parts of how you work will be the same one over and over again. Photoshop has a thing called Actions which will allow you to automate all those tasks. If you use Actions already, this is going to be a boring post for you, if you don't though, you'll really need to check them out and see how you can use them to save yourself a lot of time.
I use them for a lot of things. Here's one example: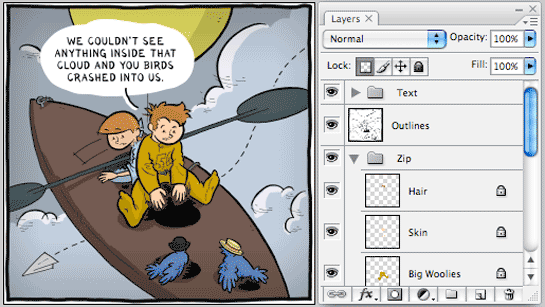 I like to work with a lot of layers when I'm coloring my comics. The file size gets a little big sometimes, but my computer seems to hold up pretty well. Anyway, I set up and name my layers the same in most every image I do. Because they're almost always the same, I can use Actions to create all those layers for me with one click of a button.
To use the Actions palette, go to the top of the screen and select Window > Actions. This will bring up the Actions palette. To create a new Action, click the New Action button at the bottom of the palette (shown here with the red arrow). This will pop up the New Action dialogue box (shown on the right).
I can name the Action anything I like and then I'll click Record. The Record button at the bottom of the palette will now be depressed (shown below in the example on the left).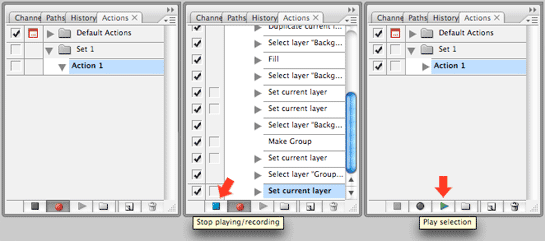 I will now go ahead and create a bunch of new layers in my Layers palette (note: I'm not creating anything in the Actions palette here, it is just recording everything I do) and name them how I want. I will also take the existing layer with my artwork on it and rename it to Outlines and set the blending mode to Multiply. When I've got things set up how I like, I'll click on the Stop Recording button (shown with a red arrow in the middle example).
Now, when I open up a new file, I can just select that Action I created and click the Play Selection button (shown with the red arrow in the right example), and all my new layers will be created for me. Unfortunately, I'll still have to color them and do all the work, but having everything set up is a nice start.
Actions take a little bit of experimenting, and sometimes a little creativity, to find out what you can and can't use them for. I try to use them as much as possible. I use Actions to create all my layers for me when I first start to color a black and white image, and because the background color layer is in a similar spot in most of my images, the Action I created can select and color that layer for me as part of that sequence. I use them create the larger jpeg images that show up when you zoom in on the comic. I created an action to automate the whole Channel sequence from my first tutorial so all that takes for me to go through that whole process is one click. If you find you're doing something over and over again, see if you can't use them. They're great timesavers.